The Japan-America Society of Mississippi is a 501(c)(3) non-profit organization, dedicated to serving all Mississippi residents and Japanese nationals interested in business and cultural issues in each nation. The Society strives to serve the dual constituency by sponsoring business-related and cultural programs on a wide variety of subjects to benefit both American and Japanese members.


The Japan-America Society of Mississippi was founded on May 2, 2002, by Mississippi business, academic, government, and community leaders. It was the consensus of the founding members that the timing to form such an organization was ideal as the state began to host a number of Japanese investments in the state. They also felt that it was necessary to create an environment which will be conducive to further economic growth in the state as well as to broaden the global vision of Mississippi's population.


The Japan-America Society of Mississippi is an affiliate of the
National Association of Japan America Societies
. Ten committees, each lead by one of the members of the Board of Directors, develop, execute, and manage the society's program offerings. The committees that are initially planned include annual events, business council, cultural exchange, education, finance, language, membership, program, publicity, and sister city. The Board of Directors feels that the success of the organization will be based upon the active participation by members and member organizations. The society encourages and solicits participation from each member.
Event: 2023 Cherry Blossom Festival
Date: Saturday, March 25th, 2023 Time: 1:00PM to 4:00PM
Location: Ballard Park in Tupelo, MS

"One Goal, One Passion - Bridging the city's cultures together"

Tupelo Parks and Recreation and Toyota | MS in partnership with the Consulate-General of Japan in Nashville invite you to the Annual North MS Cherry Blossom Festival (Sakura Matsuri) FREE to the general public. As part of the festival, there will be inflatables, music, Japanese Fashion, Paper folding (origami), martial arts demonstrations, rice pounding (motchitsuki), brush writing/calligraphy (shūji) and much more.

Event Sponsors include APMM, Toyota Tsusho America, Trustmark, Diversity-Vuteq, Lee County, MS, The Japan-America Society of MS, The City of Tupelo, Toyota Boshoku, Renasant Bank, BancorpSouth/Cadence Bank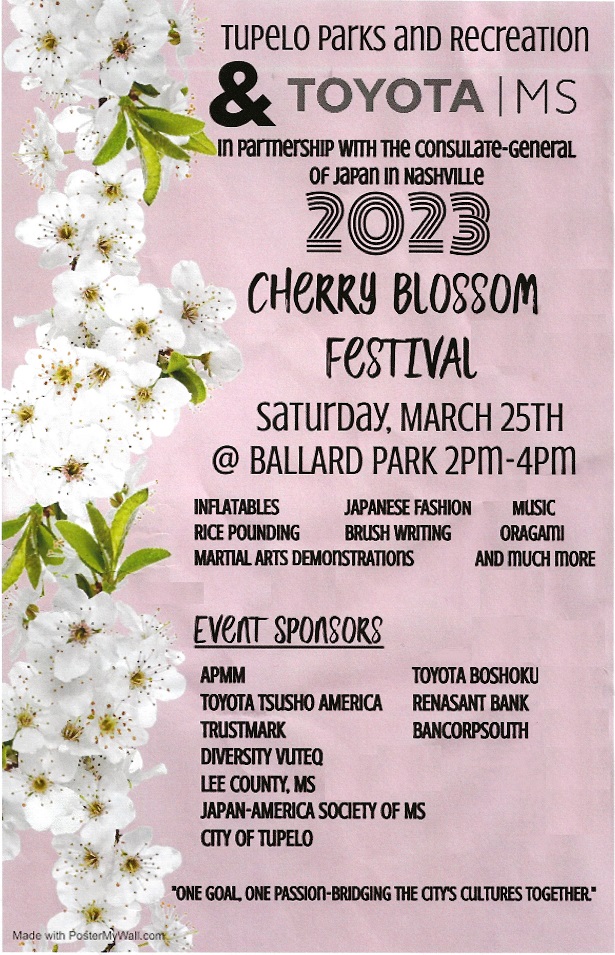 Important News Concerning Social Security Numbers
Information on Obtaining A Driver's License

The main office of the Mississippi Highway Safety Patrol in Jackson now has Japanese language tests. The Japanese language tests are electronic. The Highway Patrol has advised us it might be easier for the applicant to bring an interpreter with them to help communicate to the examiner. This is the only office with the Japanese language test.
The Mississippi Highway Safety Patrol Main Office is located at Interstate 55 Exit 98A on Woodrow Wilson Boulevard, in Jackson.
Click here for map
.